NQCCS acknowledges and respects the Traditional Custodians of country throughout Australia and recognises their continuing
connection to land, waters and culture.
We pay our respects to their Elders past, present and emerging, and work within country together for the mutual benefit of all
Australians
NQCCS P/L creates Indigenous jobs in remote communities.
In the Torres Strait and NPA, Joe Di Bella from North Queensland Commercial Consulting Services (NQCCS) Pty Ltd has partnered with local cleaning and gardening contractor Roy Boiiz Cleaning and Gardening Services, tailoring training courses to train and mentor their staff on grounds maintenance and cleaning.
Training delivered to Roy Boiiz has helped the company develop its business plan and a better understanding of the competitive tendering process.
Roy Pearce of Roy Boiiz said the partnership had already seen the company increase its workforce from four to seven.
"A training curriculum has been tailored to suit participants in this program and as a result our employees have successfully completed Telstra's induction process," Mr Pearce said.
"There are plans to extend training to include general pest control, noxious weeds and mosquito control.
"We hope our workforce will continue to grow thanks to this pilot project, and look forward to continuing our work with NQCCS who have committed to provide training and mentoring locally in communities to support us."
NQCCS P/L is committed to achieving the highest standards of honesty and integrity in business.
By employing and supporting indigenous businesses we are able to provide – A job for an Indigenous Australian which gives that person and their company a chance to support themselves, their family and community, learn new skills and act as a role model for future generations,
By working with and supplying work for independent individual indigenous businesses in our IWP throughout urban regional and remote regions, we help sustain the economies of remote communities allowing the population to have work where little exists, pride of purpose, stay on country and live and practice culture.
We are not part of Supply Nation but an independent company giving back to our fellow Australians
Our aim is to provide a one stop shop with cost effective quality of service encompassing attention to detail and client satisfaction.
Doing it right the first time
NQCCS P/L will honour all service commitments; attend to Client requirements ensuring a mutually acceptable resolution
Established in 2001, NQCCS P/L began servicing the Townsville and Cairns regions providing consulting, facility's maintenance and pest control, and then expanded into the Far North, Torres Strait and West to Mt Isa.
As clientele grew, we adopted a cost-efficient strategy that allowed us to program works, increase services and apportion expenses thereby affecting both a time and cost benefit for our clients. Within 5years from the start of operations NQCCS P/L became National.
Giving Back to People, Culture, Community and Country:
Our visits to remote areas of Australia demonstrated the need for new opportunities for indigenous people in these communities
We needed to build self-sufficiency and a future for them and their children.
Working with locals we have developed this program in partnership with Telstra to train motivated indigenous men and women in operating and running a small business in the maintenance and upkeep of remote assets.
We maintain a close ongoing relationship, mentoring and upskilling as different needs arise for service.
This has been the main core for sustaining our indigenous work force who otherwise would not have the means to sustain a business future where no exist in our rural and remote regions of Australia.
NQCCS wants these communities and local people to build sufficiency and a sustained future
Services
NQCCS offers an extensive range of maintenance and management services in Urban, Regional and Remote assets, for example: 
Civil works.
Site audits and reports. Base on ISO 2015 requirements across all business sectors
Ground maintenance. (Including Site Inspection Reports and time dated Photos) SIR's
Building cleaning services. Including High Cleans and strip, cut and polish flooring. (Including reports and time dated Photos)
Decontamination Services
Pest Management, and Termite Inspections and Treatment. (Including full written report and photos)
Tree clearing and arborist services.
Landscaping and land clearing
Fencing: – building and repairs
EPP fuel, oil & coolant checks, EPP refuel and the supply of emergency diesel
Attendance during planned outages for site restricted compounds
Air conditioner functional check & filter cleaning
Test and Tag
General and Soft Maintenance works and services
Noxious Weed Control. (Including full written report and photos) These are kept in an environmental register.
Asbestos & controlled substance management & disposal. (Class "B") (Supervise Asbestos removal)
All other areas of Asset Maintenance
Team Members
Our team members are continuously expanding their capabilities and compliance to encompass additional disciplines to suit client requirements. Our methodology ensures harmony between team members and clients to ensure expectations on both sides are met, resulting in cost-effective high-level service, without compromising health and safety especially in regional and remote Areas.
NQCCS P/L implements practices to ensure all assets and land management work are carried out in accordance with industry codes of practice and regulations and with particular attention to the public, staff and employees, safety and the environment.
Our long-term goals are building the skills of local Aboriginal and Torres Strait Islander people to govern, manage and staff their own businesses.
Our organisation has a mix of both non-Indigenous and local Aboriginal and Torres Strait Islander staff.
With high rates of unemployment, it makes sense to provide local work to local people, and NQCCS now have this as part of our objectives and policies.
NQCCS PTY LTD has an investment in training and mentoring support for our local people in our IWP. Since 2001 and overall, $450,000.00 spent yearly. (This is not Government but personally funded)
While there might be an initial cost involved, in the long term it contributes to building a sustainable Indigenous network and small businesses for your nation in remote communities. (Keeping the marrow of our economy flowing)
Aboriginal and Torres Strait Islander business are developing many innovative ways to attract, and retain their own local cliental.
A long-term commitment by NQCCS to support and mentor Indigenous Companies in QLD WA NT SA continues to have a positive impact on local Indigenous communities across each state
NQCCS supports and assists their start-ups by not only employing them as sub-contractors but by working with them to diversify into other trades and skill as new contracts arise. Promote and support the importance of cultural connections in building resilience and wellbeing.
We ensure cultural safety for Aboriginal people from the moment they enter the workplace.
We have adopted a holistic approach to supporting Aboriginal people where the focus is broader than any single issue.
We informally meet on site and provide regular supervision, instruction and mentoring.
Encourage healthy lifestyle and physical and cultural activities in the workplace.
NQCCS negotiates flexible working arrangements so associates are more likely to feel supported and valued.
These good working relationships are also very important for the wellbeing of Aboriginal Team members.
Each group has risen to every challenge and we continue to engage their services across each state.
NQCCS is extremely proud of its commitment to indigenous mentorship and employment and this commitment is clearly evident by our continued presence and involvement across each and every aspect of these businesses. (Giving back when we need help most)
History
In the beginning
One of the 1st training programes for Telstra Network took place in the Torres Straits with "Roy Boyz" a start up Indigenous Company with NQCCS P/L – Roy and Amanda Pearce Basic grounds maintenance and cleaning services for Telstra sites throughout the Islands of the Torres Straits.
Over the last 10 or so years NQCCS and Telstra who have supported this program have been able to reach out and assist across Australia's many Indigenous businesses, there people and communities.
Others that followed
Aurukun, – Robert Love
Cairns regional, – Chris Clark
Coen, – Graham Bourke and his AOG Mission Mob
Gulf Region, – Burketown and Bentick Is Paul Poole Savana Mob.
Mornington Shire Council Andrew Tompson and Indigenous Council workers
Kowanyana, – Kowanyana Police club Peter Simpson and Paul Zohn the Bullyman social welfare Club
Lockhart River, – Enterprise management group Michael Harte
M t Isa Joshua Burt and Ross Rok. Yard and pool maintenance Mowing Services
Savanna, – Simon Naawi, Simon Naawie Mowing Services
Charters Towers, Summers Maintenance Services. Debra Summers and Simon Nicholson
Cloncurry, – Curibred Mowing and maintenance. Rob Shepard
Torres Strait Islands, – Roy Boyz. Roy and Amanda Pearce
Weipa, – Lewis Puls
Groote Eylandt, – Grant Ross
Halls Creek, – Squizzy Mob Tony
Central NT and Qld – Rainbow Gateway
Across Australia – My Parthway FS
Palm Island – TECCS P/L
NQCCS P/L teamed up with Telstra in 2014 to implement an Indigenous Workers Program by engaging and successfully mentoring team members throughout the Kimberly's, Pilbara, NT, Torres Straits and Queensland in both Grounds and General Maintenance. MD Joe DiBella has worked in the field with WA, NT and Qld team members ensuring compliance and a solid grounding in, SOW, method and reporting. NQCCS has provided training, mentoring and guidance until team members can implement their own methodology, best practice, policy and procedure.
Our IWP project covering asset and grounds maintenance and cleaning is in its seventh year and we are extremely proud of the continuous progress made in both programs. 2020 – 21 ensures we are on target with the entire portfolio of approximately several hundred network sites throughout the Kimberley's, and will be completed within acceptable time frame. North Queensland's few hundred network sites portfolio for 2020 is already complete with the exception of the second Torres Strait island services not due for completion until the end of October 2020.
Accomplishments throughout our IWP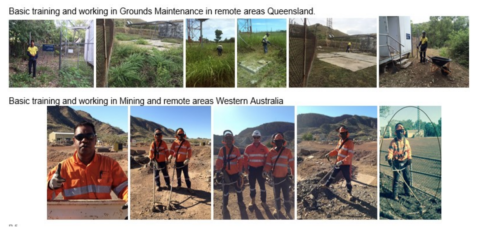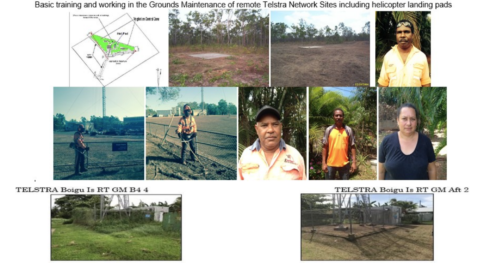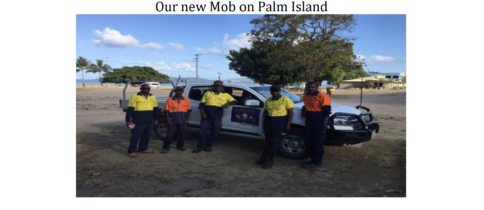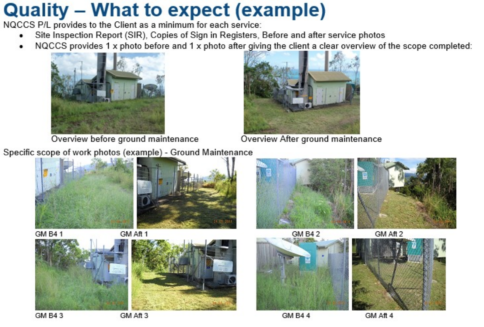 Awards and Accomplishments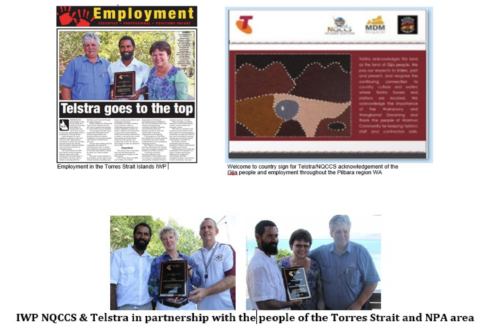 Testimonial's

Kado Muir is a leader of the Ngalia tribe company is based in Leonora Western Australia.
Kado and Deeva Muir set the business up to create employment and opportunities for their children and other
Aboriginal people in the northern Goldfields region.

New Indigenous associations as at 2020
35 years' experience, 673 frontline Indigenous staff across Australia Providing: – Facility Services, Cleaning, Security and Specialist Services prevention cleans to mitigate the risk of COVID-19
Rainbow Gateway Limited: – Management of the delivery of: Community Development Program – West Isa / Alpurrurualm and Cloncurry Regions. Remote School Attendance Strategy – Camooweal, Job active – Mount Isa, Training Unit – Camooweal/Mount Isa.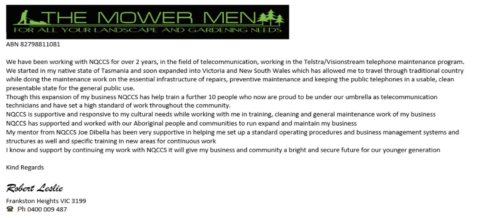 AMC Pit Remedation Program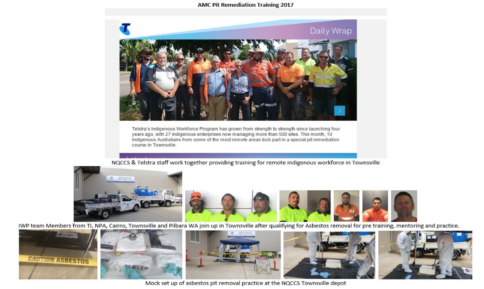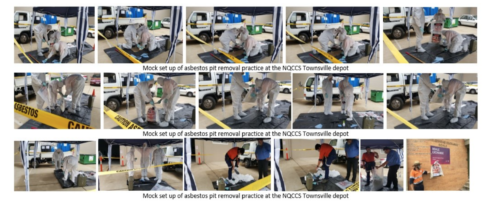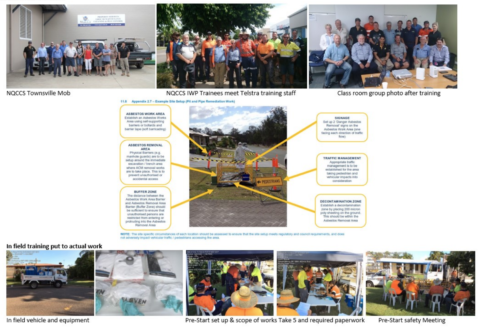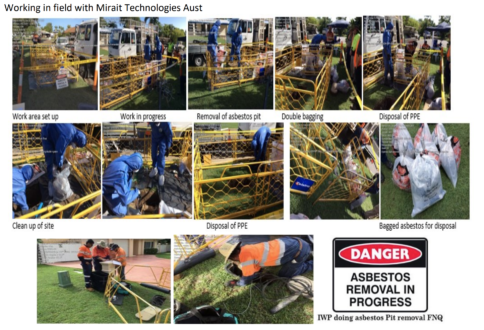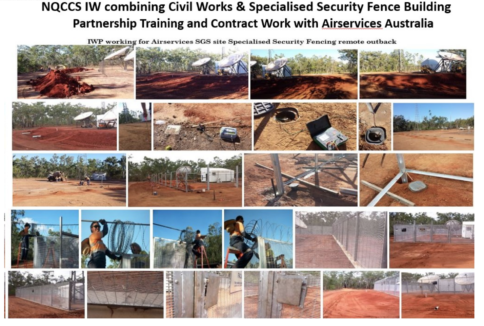 Examples of Customers Currently Serviced Queensland, Northern Territory, Western Australia, NSW and Victoria.
Power Supply – Ergon Energy, Energex, Brookfield Multiplex and Thiess Services
Defence Services – Department of Defence FNQR 51/56, Serco Sodexo (Defense Services) and Spotless
Radio and Television – Southern Cross Ten Queensland, Broadcast Australia and Channel 9
Telecommunications – Telstra, Optus, Vodafone, Crown Castle and Visionstream
Aviation – Airservices Australia
Rail – Queensland Rail and Aurizon
Realestate – Intact Group, Five D Management Services and QBuild
Waste – Thiess, Cleanaway and Romondis
Asbestos – Mirait Technologies Australia and Telstra
Indigenous Enterprise Stats
Jobs provided – 126 Permanent contractual work. (Involved in Monthly, Bi monthly 6 monthly and yearly services)
Companies – 42 Australia wide
Female employees – 9
Male employees – 47
These stats do not include Larger Indigenous Australian Companies
Should NQCCS be Successful with this Tender – RFQ for Telstra Cleaning & Grounds Maintenance
An Additional 540 Indigenous workers will enter this program through the Grounds and cleaning